Secure your travel with Travel Insurance which helps you take care of medical emergencies, unforeseen expenses and other risks that you may encounter during travel.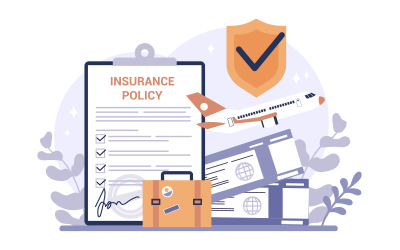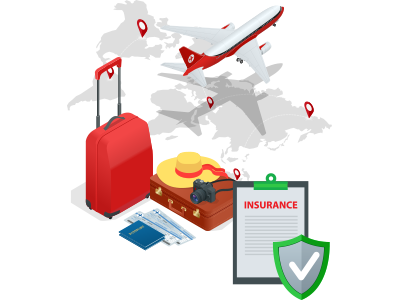 What is Travel Insurance?
Travel Insurance is an important piece of document that you should own when you travel for business or leisure, within the country or abroad, as it provides financial backup in case of an adverse situation. The risks covered include personal accident, trip cancellation, loss of passport, loss of baggage or personal belongings and hospitalization.

Need for travel insurance
Travel insurance ensures you return home from a holiday or business trip with good memories and pleasant experiences.
Types of Travel Insurance
Travel insurance policies can be issued based on the nature of your trip. Some of them are,
On geographic location basis
It covers an individual or a family against expenses due to any unforeseen medical emergencies, accidents and even loss of luggage. It is applicable to people travelling within India.
Overseas travel insurance is a package policy that covers an individual or a family against hospitalization expenses, accidents, trip delay or loss of checked-in baggage or passport and even provides cash in such emergencies. Some policies have the option of fire and burglary insurance for your home in India during your overseas visit.
Schengen is the area comprising 26 European countries, and this insurance cover is for travellers to one or more Schengen countries. The benefits include hospitalization, loss of passport, check-in baggage delay, loss of baggage and accident.
According to the terms of this travel insurance, the coverage is only from the start of the travel until return. All benefits, medical and non-medical, are valid just for one trip.
This insurance is better suited for those who travel abroad on a regular basis as it can be issued as an annual cover. The benefits are that you don't have to take a new policy for each trip and it will be more cost-effective.
On type of traveller basis
It is an insurance cover for Indian students studying abroad, and its validity can be extended up to two years. Besides the usual coverage that includes loss of passport, loss of baggage, and overseas hospital expenses coverage, this policy has additional benefits like two-way compassionate visits and sponsor protection.
This is suitable for corporate employees who travel abroad frequently for work. It is valid for one year and covers, among other usual risks, missed connecting flights, flight delay, loss of baggage, hospitalization expenses and many more.
It is ideal for families making regular trips abroad, and the benefits extend to the insured, their spouse and children. The benefits can be availed by an individual or the whole family as needed. Loss of passport, baggage loss and hospitalization expenses are included in the cover.
This is a travel insurance policy designed for people who travel as a group. People who are a part of group tours, office tours, industrial assignments and pilgrimages will find this suitable and it is available for both domestic and overseas travel.
This travel policy is most suited for senior citizens over 60 years of age. The coverage includes hospitalization expenses, loss of baggage and loss of passport.
Benefits and features of travel insurance
Every travel insurance plan has specified benefits useful to the traveller. Here are the common features and benefits of most travel insurance policies,
Travel insurance provides cover for hospitalization in emergencies while travelling. Cashless claim settlement is available, which makes it very convenient while travelling abroad, making it as useful as a health insurance.
If you are a frequent traveller, buying multi-trip travel insurance is more beneficial than buying insurance before every trip.
Baggage loss is a common issue faced during travel. Having proper travel insurance will help you recoup financially.
Insurance firms compensate for unexpected events such as missing connecting flights or flight cancellation due to bad weather and reasons beyond your control.
A trip cancellation cover can protect you from financial losses if your journey is cancelled due to loss of job, accidental death of a family member or terrorist attack at the destination.
If the insured passes away or suffers a disablement, then the policy will pay compensation.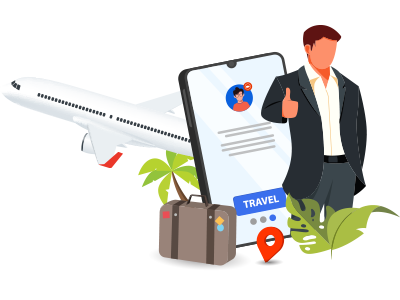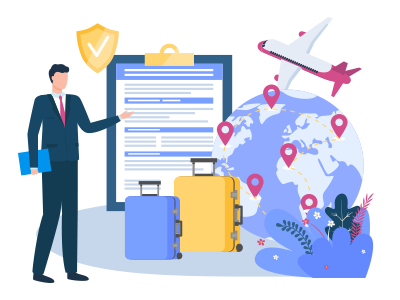 There are certain contingencies when travel insurance will not pay a claim. For example,

Claims that involve drug abuse and alcohol
Medical emergency expenses because of sexually transmitted diseases like STD, AIDS, or Herpes
Alternative medical treatment including Homeopathy and Ayurveda
Claims due to war and nuclear activity
Claims relating to adventure sports
Claims resulting in cosmetic surgeries
Claim because of suicide or self-injury
Claims for pre-existing disease
When the insured person travels against medical advice
There are several reasons why you should apply
How to buy travel insurance?
Login to "Fincover"
Click the Travel insurance option in the Insurance tab
The display shows a wide range of insurance policies available
Choose your suited insurance policy in terms of premium and assured sum
Pick your preferred payment method and make the payment