Two-wheeler Insurance Policy
Get Your Bike Insured against all kinds of damages with a comprehensive bike insurance policy. Insure now and stay protected for a longer period.
Top Two wheeler Insurance Plans
Several good plans are available at a cost that will enhance your day.
Comprehensive plan
Third party plan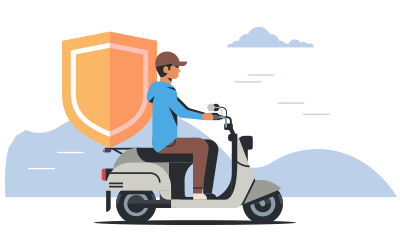 What is two-wheeler/bike insurance?
Your bike is your most prized possession. Whether you show off in front of friends or rely upon it to travel to work or with family, it is a valuable part of your life.
A Two-wheeler insurance plan protects your bike. If it gets damaged or stolen, you can get compensation to repair or replace it.
If an accident occurs while riding it, you or somebody else can get injured. There can be damage to their vehicle or property, or unfortunately, somebody may lose their life. An insurance policy will come to the rescue in any of these situations.
Why Two-Wheeler insurance is important?
Motor Vehicles Act, 1988 states that any motorized vehicle plying on public roads in India should have third-party liability insurance. Third-party liability insurance cover for your bike is compulsory under the law.

This covers you against any claim that can be made by third party drivers on you for injuries, damage or death related to your bike. If you ride your bike without it, you will have to face a heavy fine.
Quick purchase
Like Car Insurance purchase, buying a two-wheeler insurance online is easy at Fincover. It takes only a few minutes to buy or renew a policy. Fincover helps you study and compare the offers of multiple insurance providers, so you can choose the best policy.
Types of two-wheeler insurance
Third-party insurance provides financial compensation to the third party in the event of damage to the bike or bodily harm due to an accident caused by your old bike.
You can protect against damage or loss of your bike by adding an Own-damage policy to your third-party policy is called a comprehensive two-wheeler insurance policy.
Several useful add-on covers are available at extra cost that will enhance your policy's value.
Consumables Cover
Covers repair/ service charges for consumables like lubricants, engine oil and nuts.
Breakdown Assistance
If your bike breaks down during travel and you need assistance moving it to a garage, this optional cover will come to your rescue 24*7.
No claim bonus protection
If you have a claim-free year on your bike insurance, you get a significant discount on your bike insurance renewal premium.
Medical expense cover
This add-on cover helps you meet your medical expenses if you have an accident.
Key protection cover
Have you lost the original key to your bike and paid through your nose for a replacement? If you have this add-on cover, it takes care of that expense.
Pillion rider accident cover
A comprehensive bike policy covers the owner or driver of the bike. This add-on provides a personal accident cover for the pillion rider.
Return to invoice
If your bike is damaged beyond repair or stolen, then the insurance company will pay the Insured Declared Value, which is the bike's market value after depreciation.
Depreciation cover
Vehicles depreciate in value, so your claim amount will be reduced to that extent. Take this add-on cover, and you can claim the full cost of your bike.
Benefits of Two-Wheeler insurance
If somebody else suffers a loss because of your bike, their compensation will not be your burden with a third-party liability cover.
The comprehensive bike insurance policy will cover the theft of your bike.
Various additional coverages extend your protection.
Features of two-wheeler/bike insurance
Here are some technical terms in bike insurance,
IDV – The maximum insurance coverage for the bike in the own damage portion of a comprehensive policy. It is equal to market value less depreciation.
Voluntary deductible – You can choose to bear a portion of every claim in return for a suitable premium discount. This will be over and above.
Own damage cover – Pays for damage to your vehicle.
Compulsory deductible – In every claim, you have to bear an amount pre-fixed by the insurance company.
Third-party liability cover – Pays for damage to third party vehicles or injury or death.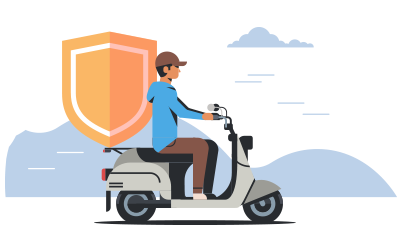 There are several reasons why you should apply
two-wheeler/bike insurance claim exclusions
You cannot make a claim under the following conditions,
If your bike policy has expired

When the bike is used outside India

The damage is caused by war or any nuclear activity

There is an electrical or mechanical breakdown 

The rider has consumed alcohol or any other drugs

The rider does not have a valid driving license 

The bike is used for illegal activities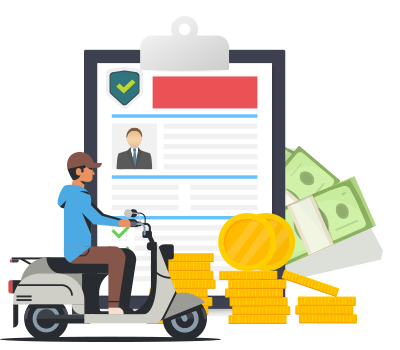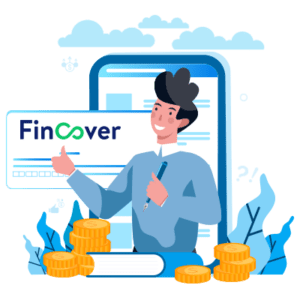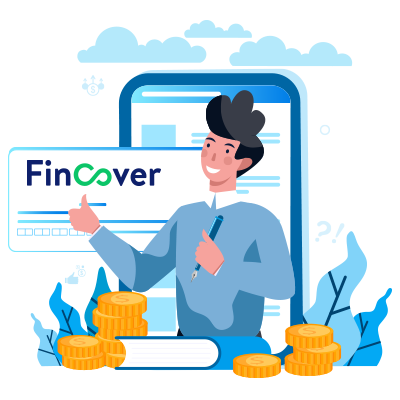 How to buy two-wheeler/bike insurance?
Fincover gets you the best insurance available in the market,
 Log on to "www.fincover.com"

Select your bike model

Enter your registration number

Choose Buy Insurance or Renew Insurance 

Insurance policies from various insurance companies will be displayed

Analyze and choose the best policy suited to your needs

Pay the bike insurance premium using your preferred payment method
You can learn more from our asked questions
How to check your Motor Vehicle Insurance Details? In today's
What is IDV in Two-wheeler Insurance? IDV or Insured Declared
Best Two wheeler Insurance Companies in India A Two Wheeler