Fire insurance is a type of insurance that provides coverage for property damage and loss caused by fire. It helps to protect the policyholder from financial loss due to fire damage to their home, business, or other insured property.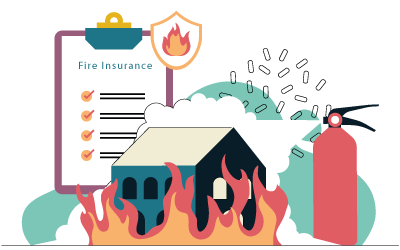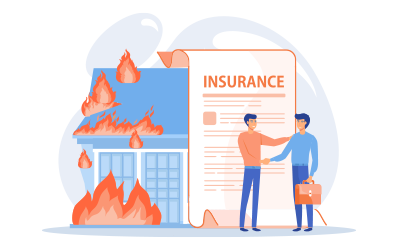 Fire Insurance is the type of insurance which provides coverage for loss or damage caused by fire to your property. It can be bought as a part of property insurance or even as standalone insurance.  As the estimation from fire loss is unpredictable, the policy will be issued with a fixed compensation. The insured will receive the amount agreed upon the time of claim during a fire accident. Even home owners can take a fire insurance to protect the structure of their homes. It also covers the cost of replacing items in the house such as AC, television, and other electronic gadgets.
There are different types of fire insurance policies available with different scope of coverage. Check your requirement and purchase the one that fits your needs,
At times, it is difficult to gauge the exact loss during a fire accident, a valued policy is issued. A valued policy is a type of policy where the value of commodities is fixed at the time of purchase of policy. In the event of fire accident, the policyholder will receive the amount agreed upon at the time of purchase of policy not the actual value (eg: Jewellery and other items whose market value fluctuates)
If you have multiple branches of your office/godown in different locations, you can opt for a floating policy. With the help of this single policy, all the goods lying in different locations can be insured together. Thereby, you can eliminate the need for buying multiple insurance policies.
With this policy, the maximum payable by the insurance company is fixed in advance. In the event of an unfortunate event like an accident, the amount equivalent to the prefixed amount or the amount of the damaged item whichever is less is settled. For example, if you bought a policy with 3 Lakhs as fixed limit and you incurred a loss of 4 lakhs in an accident, then the insurance company will pay you the agreed amount of Rs. 3 Lakhs.
It may occur to the insurer that he/she may want to insure their goods against all possible risks like fire, burglary, theft, explosion, and similar reasons. In such cases, it's better to go for comprehensive policy otherwise known as all risk policy, which will help you take care of all possible risks.
If you are taking a policy less than the value of the property, then the insurer imposes the "Average Clause" as a penalty for under insuring your property. If the value of your property is Rs. 40 Lakhs and you are insuring it for only 20 lakhs, then the insurer will only Rs. 20 lakhs in case of a fire accident.
After a fire accident, loss of goods is not the only loss that may grieve you. Because of the loss of machinery and equipments, you may lose production. The loss of production is a consequential loss. By buying consequential loss coverage, you may claim such indemnity which can make up for the consequential loss.
In case of total destruction of property due to fire, you may need to find a new property to restart your business.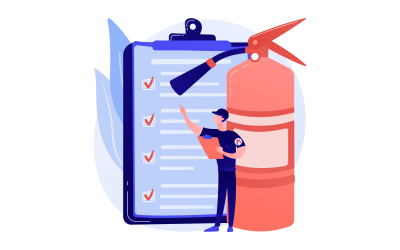 Coverage Offered under Fire Insurance
Loss of Goods due to fire accident

Living expenses due to the damage of the insured property

Loss to the adjacent buildings or property near the accident site

Fee to the firefighters

Fire triggered by electricity
Exclusions in a Fire Insurance Policy
Fire caused by war or nuclear risks, riot or earthquake

Intentional arsoning by enemies

Underground Fire

Loss of goods due to theft after fire

Human-made causes of fire with malicious intent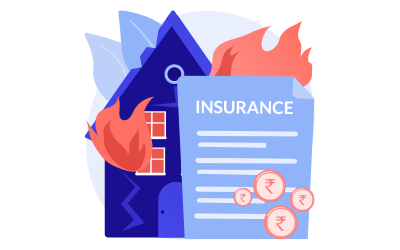 How to Raise a Claim for Fire Insurance?
For obtaining compensation for loss due to a fire accident, you need to raise a claim. Here is the process that you must follow in order to raise a claim,
Immediately inform the insurance company after the fire accident

Contact the police and fire brigade

Insurance company will appoint a surveyor to assess the damage

Submit the claim form with supportive document

Based on the surveyor's report, the claim will be settled by the insurance company within 10-15 days from the date claim request was placed
There are several reasons why you should apply
You can learn more from our asked questions