Short term loan starting @ 10.5% p.a
Are you in need of fast cash but don't have the luxury of waiting for a long-term loan to be approved? A short-term loan could be the solution to your problem. In this guide, we'll cover everything you need to know about short-term loans, including what they are, how they work, and their pros and cons.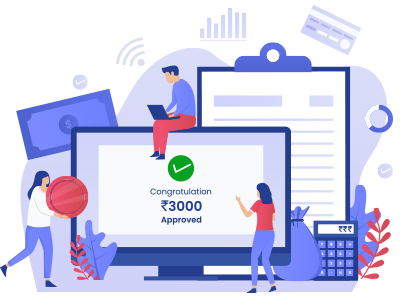 Interest Rate
10.99% - 28%

Interest Rate
16.8% - 33%

Interest Rate
11.49% - 19%

Interest Rate
13% onwards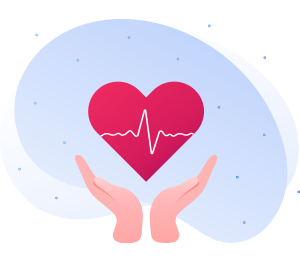 What is a Short-Term Loan?
As the name indicates, short-term loans are loans that come with a shorter tenure, usually a year or less. It is a one-time repayment loan that is especially useful if you cannot avail a long-term loan.
Short-term loans are for smaller amounts, and the eligibility criteria are usually relaxed. However, banks will analyse the repayment capacity of the borrower. Since the tenure is low, the rate of interest for short-term loans is usually high. Many banks and NBFCs prefer to give short-term loans as they find them more profitable.
Short-term loans are a type of borrowing that typically has a repayment period of less than a year. They are designed to help people bridge the gap between paychecks or cover unexpected expenses. Unlike long-term loans, short-term loans usually have a higher interest rate due to their shorter repayment period.
How Do Short-Term Loans Work?
Short-term loans are often provided by online lenders, credit unions, or banks. The borrower typically applies for the loan by filling out an application that includes personal information and details about their income and employment. The lender then evaluates the application and determines whether the borrower is eligible for the loan.
If the borrower is approved for the loan, they will receive the funds within a few days. The loan must be repaid within the agreed-upon timeframe, which is typically a few weeks to a few months. The repayment amount includes the principal loan amount plus interest and any fees.
Short-term loans are usually disbursed quickly and can be availed by working professionals, self-employed individuals, businesses or enterprises.
As lenders prefer an online application for loan processing these days, the procedure is remarkably simple.
A repayment capacity of the borrower is taken into account while fixing the EMIs.
Though the interest rate of short-term loans is higher, the overall interest you pay is lower than long-term loans due to the shorter tenure.
The credit history of the borrower is not normally scrutinized for short-term loans. However, some lenders may expect you to have a good credit score.
You can repay the loan using the auto-debit feature. It ensures you make timely payments of your EMI.
No end use conditions, once the loan amount is credited you can simply use it finance any purpose. For instance, you can use it to renovate your home, purchase equipment for your office etc.
Some banks levy a nominal foreclosure charge if you repay ahead of schedule.
Short-term loans provide funds for immediate goals and expenses. Usually, banks provide short credit with one-year tenure.
Fast approval and funding: Short-term loans are often approved within a few hours to a few days, making them a great option for people who need cash quickly.
No collateral required: Most short-term loans are unsecured, meaning that they don't require collateral such as a car or house to be put up as security.
No long-term commitment: Since short-term loans have a repayment period of less than a year, borrowers are not tied down to a long-term financial commitment.
High interest rates: Because short-term loans are repaid over a shorter period, lenders often charge higher interest rates to make up for the shorter repayment period.
Potential for debt trap: If a borrower takes out multiple short-term loans, they may find themselves in a debt trap that is difficult to get out of.
Fees and penalties: Late payments or defaulting on a short-term loan can result in fees and penalties that add to the cost of the loan.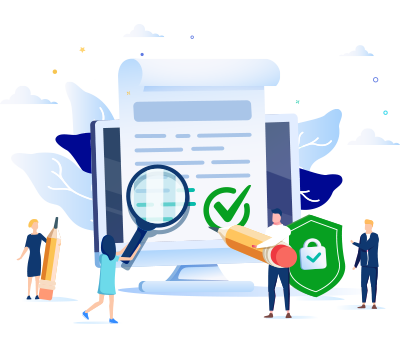 Eligibility Criteria for a Short-term Loan
The eligibility criteria for the Short-term Loan differs from lender to lender. Here are some eligibility criteria set by most lenders,
You must be a resident of India

Must be a salaried employee or a self-employed professional

Minimum age 18 years

Must have a savings bank account

Most banks expect you to have a net monthly income of Rs.15,000 at least

Salaried employees should have a work experience of at least two years, and the self-employed should have run the business for at least one year.
Documents required for Short-term Loan
There are few documents to be submitted with the loan application,
PAN Card

Income Proof – Salary Slip for the past three months for the salaried, balance sheet for the self-employed

ID Proof – License, Aadhaar Card, Passport, Voter ID

Address Proof – Ration card, Rental Agreement, Telephone Bill

Bank Statement for the past six months

Two Passport size photographs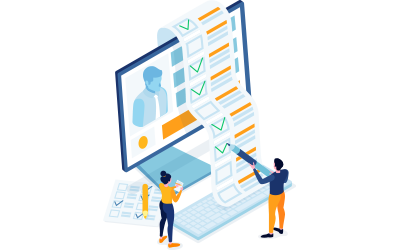 Short term loans Fees and Charges
Interest or Finance Charges: Short-term loans often come with high interest rates or finance charges. These charges are usually calculated as a percentage of the loan amount and can vary significantly depending on the lender and your creditworthiness. Interest rates for short-term loans can be much higher than those for traditional bank loans or credit cards.
Late Payment Fees: If you fail to make your loan payment on time, lenders may impose late payment fees. These fees can vary and may be charged as a flat amount or a percentage of the overdue payment.
Prepayment Penalties: Certain lenders may charge prepayment penalties if you decide to repay your loan before the agreed-upon due date. These penalties are meant to compensate the lender for the interest income they would have earned if you had made all the scheduled payments.
Non-Sufficient Funds (NSF) Fees: If you don't have enough funds in your bank account to cover the repayment, the lender may charge you an NSF fee. This fee is typically charged by your bank for returned or bounced checks or failed automatic withdrawals.
Extension or Renewal Fees: If you're unable to repay the loan on time, some lenders may offer the option to extend or renew the loan. However, this often comes with additional fees. The lender may charge an extension fee or require you to pay the interest charges for the original loan term before extending the repayment period.
10 Types of short term loans
There are various types of short-term loans available to meet specific financial needs. Here are some common types:
Payday Loans: Payday loans are short-term loans typically due on the borrower's next payday. They are designed to provide quick cash to cover unexpected expenses or bridge the gap until the next paycheck. Payday loans often have high interest rates and fees, making them a costly option.
Installment Loans: Installment loans are another type of short-term loan where the borrower receives a lump sum amount and repays it in equal installments over a specified period. These loans may have lower interest rates compared to payday loans and are usually available for larger amounts.
Line of Credit: A line of credit is a flexible form of borrowing where the lender provides the borrower with a predetermined credit limit. The borrower can withdraw funds as needed and only pay interest on the amount used. It is a revolving credit facility that can be used repeatedly.
Title Loans: Title loans are secured short-term loans that require borrowers to use their vehicle's title as collateral. The lender holds the title until the loan is repaid in full. Title loans typically have high interest rates and carry the risk of losing the vehicle if the borrower fails to make timely payments.
Merchant Cash Advances: Merchant cash advances are short-term loans specifically designed for businesses. In this type of financing, the lender provides a lump sum payment in exchange for a portion of the business's future sales. Repayment is typically made through a fixed percentage deducted from daily credit card sales.
Personal Loans: Personal loans can be used for various purposes, including short-term financial needs. These loans are typically unsecured, meaning no collateral is required. The borrower receives a fixed amount and repays it over a set term with interest.
Online Loans: Online lenders have gained popularity in recent years, offering quick and convenient short-term loans. These loans can be accessed entirely online, with minimal documentation and fast approval processes. Interest rates and terms vary depending on the lender.
Cash Advances: Cash advances are short-term loans provided by credit card companies. Cardholders can withdraw cash from an ATM or use convenience checks, with the borrowed amount added to their credit card balance. Cash advances often have higher interest rates and additional fees.
Bridge Loans: Bridge loans are temporary financing options used to "bridge" the gap between the purchase of a new property and the sale of an existing one. These loans are typically repaid when the borrower receives funds from the sale of their current property.
Microloans: Microloans are small, short-term loans offered to entrepreneurs and small business owners who lack access to traditional financing. These loans are usually provided by nonprofit organizations and are aimed at supporting small-scale business activities.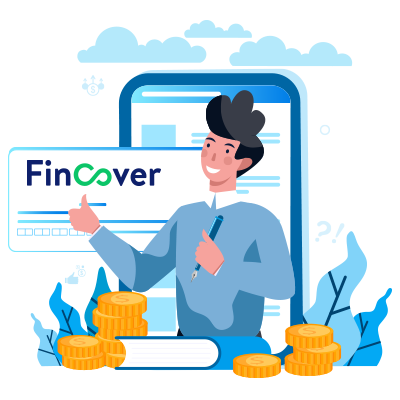 How to Apply for a Short-term Loan?
Many lenders allow customers to apply for short-term loans using their online channel. However, checking every one of them is a challenging task. Fincover eliminates the hassle of applying on every bank's website, thereby saving you a lot of time. With our loan aggregator service, you will find the best short-term loans in a few clicks. Listed below are a few steps that you must follow to apply for a short-term loan.
Log in to Fincover.

Click on "Loan" under "Finance" tab.

Enter the details asked for and click on submit.

You will get loan offers of different banks and NBFCs.

You will get a call from our customer support executive.

Select the loan offer that suits you the most and submit the documents required for the process.

We will forward your application to the lender and a representative from the side of the lender will contact you with further details.