Check Loan Application Status
Checking the personal loan status helps applicants stay updated on whether their loan application has been approved, rejected, or is still under review by the lending institution.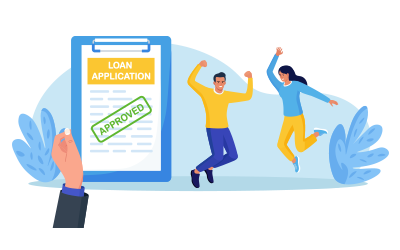 Securing a personal loan is a significant financial decision, often undertaken to meet various life goals or manage unexpected expenses. Once your personal loan application is submitted, you might find yourself eager to know the status of your request. Fortunately, tracking your personal loan status has become more accessible than ever, thanks to digital advancements in the financial sector. Understanding where your personal loan application stands in the approval process is crucial. It helps you plan your finances better, manage expectations, and take necessary actions if required.
Many banks update the status of personal loan application within a couple of days. Now with the availability of features such as whatsapp, Messages etc, the banks will find a Way to let you know the status of your application shortly.
You can check the status of Personal Loans through following methods
Personal Loan check : Offline
The applicant can call the customer care unit of the bank/NBFC
Customer needs to check the personal loan status with the bank official
Personal Loan Check : Online
Nearly all the banks and NBFCs follow online application for personal loan and have provisions to check the loan status. You would need to input a few details
Applicant Name
Reference number
Date of Birth
Mobile Number
PAN no
Personal Loan Tracking through Mobile number
While most mobile numbers are a unique identifier, many banks use mobile number as the point of reference to track the personal loan. Once you enter your mobile number along with your Date of birth, you will be able to see the status of your personal loan
Personal Loan tracking through reference number
Every time after you apply for a personal loan, you will receive a unique reference number from the lender. You can input the reference number in the respective section and check the loan details
Personal Loan status through netbanking
You can check the status of your loan after logging in to your bank and checking under the loan section. The status of the loan applied will be updated there along with the reference number
Personal Loan status through Mobile App
The mobile app of some financial institutions would have a know your application status option. You can click on it and enter the reference no/mobile no as per the forum and know the status
Conclusion:
Monitoring your personal loan status not only keeps you informed but also empowers you to make informed decisions. Whether your application is under review, approved, or requires additional documentation, staying in the loop ensures a smoother and more transparent borrowing experience. Leverage the digital tools provided by financial institutions to check your personal loan status conveniently, and embark on your financial journey with confidence. While most people these days do not visit branch for applying as the internet has paved way for people to apply from their living rooms. The online way of applying for personal loan is the trend and the status of the personal loan can be known in few steps very easily. 
Remember, each lender may have slightly different procedures, so be sure to follow the specific instructions provided by your chosen financial institution.