Fulfil your wishes
with Personal Loans
Looking for the best deals on personal loans? Explore a wide range of options from leading lenders that offer interest rates, flexible repayment terms, & quick approvals.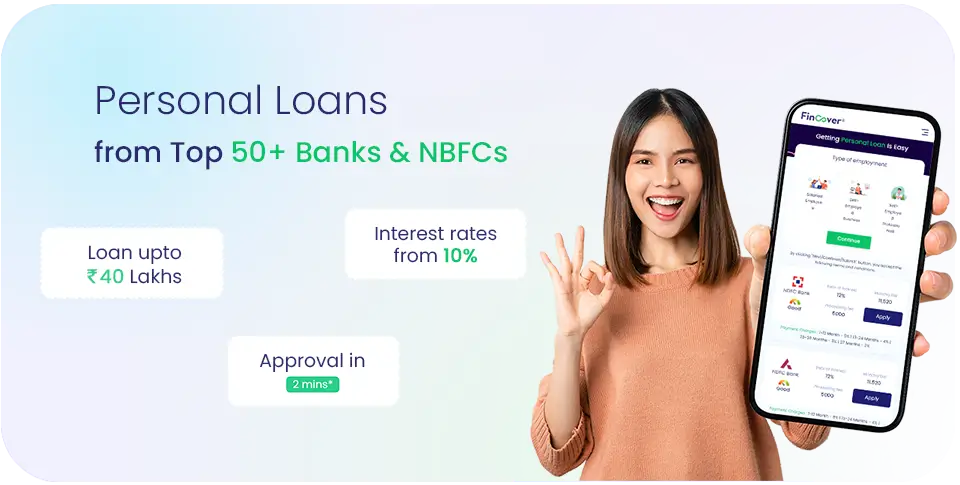 Understanding Banks & NBFCs Interest Rates
Interest Rate
10.35 % - 12.50%

Interest Rate
10.50% - 16%

Interest Rate
10.35 % - 12.50%
Interest Rate
10.49% - 19%

Interest Rate
10.49 % - 14.50%

Interest Rate
10.35% - 12.99%

Interest Rate
10.75% - 16.50%

Interest Rate
10.5% - 13.50%

Interest Rate
10.99% - 28%

Interest Rate
16.8% - 33%

Interest Rate
11.49% - 19%

Interest Rate
13% onwards
A Personal Loan is an unsecured loan that may be short term or long term, given by a bank or non-banking finance company (NBFC) to meet their customers' personal expenses. An individual can obtain a personal loan based on his income, credit score, repaying capacity, etc.
Usually, personal loans are disbursed within a few days once the individual applies after going through some background verification processes. One of the most striking features of personal loans is their flexibility. From emergency medical situations to planned events like wedding expenses or home repairs there are many personal loan options available.
Personal loans can also be useful when you want to invest in a business venture or make a down payment for an asset you want to buy. You can make use of our Loan calculator to derive an exact figure for which you will repay. Using a Loan calculator will help you draft better financial plans. Unlike a home loan or gold loan, you need not offer any assets as collateral for a personal loan. Since there is no security obtained from the customer end, the interest rates for personal loans are normally high.
Certainly! There are several types of personal loans, each designed to meet different financial needs. Here are some common types of personal loans.
Unsecured Personal Loans
These loans do not require collateral, meaning you don't need to provide any assets (like a house or car) as security. Lenders assess your creditworthiness based on factors like credit score, income, and employment history.
Secured Personal Loans
Unlike unsecured loans, secured loans require collateral. This could be your home, car, savings account, or other valuable assets. If you fail to repay, the lender can take possession of the collateral.
Fixed-Rate Personal Loans
With a fixed-rate loan, the interest rate remains constant throughout the entire loan term. This provides predictability in monthly payments.
Variable-Rate Personal Loans
Variable-rate loans have interest rates that can fluctuate over time, often in response to changes in a benchmark interest rate. This means your monthly payments can change.
Debt Consolidation Loans
These loans are specifically used to combine multiple debts into a single loan. This can simplify payments and, if the interest rate is lower, potentially save money.
Home Improvement Loans
These loans are tailored for financing home improvement projects. They may be secured (using your home as collateral) or unsecured, depending on the lender's terms
Medical Loans
Designed to cover medical expenses not covered by insurance, these loans can help individuals manage unexpected healthcare costs.
Student Loans
While most student loans are specific to education expenses, some personal loans can be used to cover costs not met by traditional student loans.
Wedding Loans
Intended for covering wedding expenses, these loans provide a way to finance your special day.
Travel Loans
Travel loans are used to fund vacations or travel experiences. They allow you to spread the cost of a trip over time.
Emergency Loans
These loans provide quick access to funds for unforeseen expenses or emergencies, offering a financial safety net.
Business Loans for Individuals
Some lenders offer personal loans for individuals looking to start or expand their own businesses.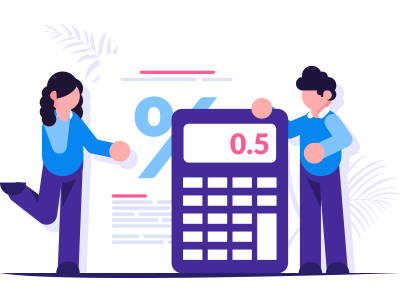 Calculate a personal loan EMI?
 With the help of this tool, you can Calculate EMI, and compare interest rates across multiple banks.
Enter the loan Requirement details
"Loan Amount" you need
Loan Rate (%)
Loan Tenure (Y/M)

"Calculate" to get your EMI

You will receive a detailed break-up of your repayment
Advantages of Personal Loans
Personal Loans are unsecured loans with a tenure of 12 to 60 Months. For shorter tenures, the EMIs are higher, while for a longer tenure, the EMIs are lower.
No Security Required
An individual applying for a personal loan need not provide any collateral. The loan is provided based on your earnings and repaying capacity.
Flexibility in End Use
You can use the money you borrow for various purposes like medical expenses, travel, home renovation and wedding expenses.
Minimal Documentation
You can apply for a personal loan with minimal documentation. All it requires is an ID Proof, Proof of Income (Payslip) and Address Proof.
Quick Disbursal
Unlike other loans that involve lengthy background processes, you can expect loan disbursal within a day or two after you apply.
Tenure
Personal loans are available with tenures ranging from 12 to 60 months.
Top Up
You have the option to borrow more money by using the top-up facility.
Personal Loan Documents Required
Photo ID proof (PAN Card, Aadhaar Card)

Address Proof (Ration Card, Voter ID/ Driving License)

Salary Certificate for working professionals and bank statement

Two-year bank statements for non-salaried professionals

GST Registration and Filing Documents for self-employed professionals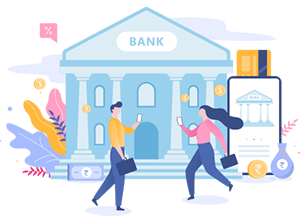 Personal Loan Eligibility Criteria
Personal loans are provided mainly to individuals and not to business entities. It can be taken by both salaried and non-salaried individuals. However, the eligibility differs in each case. 
| Criteria | Salaried | Self Employed |
| --- | --- | --- |
| Age | 21-60 | 22-55 |
| Monthly Income | 15000 (net salary) | Rs. 25000 |
| CIBIL Score | Above 750 | Above 750 |
| Employment Stability | Min 1 Year in current company | Min 2 years in current business |
| Minimum Loan Amount | Rs. 50000 | Rs. 50000 |
| Maximum Loan Amount | Rs. 50 Lakhs | Rs. 40 Lakhs |
Potential Risks and Precautions of personal loan
Potential Risks:
High-Interest Rates
Personal loans, especially unsecured ones, may come with higher interest rates compared to other types of loans. This can lead to increased overall borrowing costs.
Impact on Credit Score:
Failing to make timely payments or defaulting on a personal loan can negatively impact your credit score, making it harder to qualify for future credit.
Debt Accumulation:
Taking on multiple loans or borrowing more than you can comfortably repay can lead to a cycle of debt accumulation, potentially causing financial stress.
Penalties and Fees:
Late payments or breaches of loan terms can result in additional penalties and fees, adding to the overall cost of the loan.
Predatory Lending Practices:
Some lenders may engage in unethical practices, such as hidden fees or excessively high interest rates. It's crucial to carefully review loan terms and choose reputable lenders.
Precautions:
Compare Offers:
Shop around and compare loan offers from different lenders. Look for the most favorable interest rates, terms, and conditions.
Read and Understand Terms and Conditions:
Thoroughly review the loan agreement. Understand the interest rates, fees, repayment schedule, and any penalties for late payments or defaults.
Budget for Repayments:
Calculate how the loan repayments fit into your monthly budget. Ensure you have sufficient income to cover these payments without compromising essential expenses.
Avoid Borrowing More Than Necessary:
Only borrow the amount you need for a specific purpose. Avoid taking on additional debt that isn't essential.
Maintain Good Credit Habits:
Pay bills on time, manage existing debts responsibly, and monitor your credit report for accuracy. A good credit score can lead to better loan terms.
Responsible Borrowing Practices
Responsible borrowing practices are essential for maintaining healthy financial well-being and ensuring that loans are used effectively without causing undue financial strain. Here are some key principles of responsible borrowing.
Borrow Only What You Need
Take out a loan for a specific purpose and borrow only the amount required to meet that need. Avoid taking on unnecessary debt.
Avoid Multiple Simultaneous Loans
Taking on multiple loans at once can lead to financial strain. Consider whether you can comfortably manage the repayments before taking on additional debt.
Regularly Review Your Financial Situation
Periodically assess your financial standing and adjust your borrowing habits accordingly. This helps ensure that you're on track towards achieving your financial goals.
There may be several other factors which play a role in personal loan disbursal, it is up to the lenders to fix their criteria for personal loans.
Charges & Fees related to Personal Loans
Processing Fee 
 Every loan provider charges a processing fee for administration expenses and the amount differs with each bank. Usually, the processing fee is between one and three per cent of the loan amount.
Late Payment Charges 
If you fail to make your EMI payment on a scheduled date, the bank may levy a late payment charge along with the next EMI.
Foreclosure charges 
If you wish to close the loan before the actual tenure by paying off the outstanding as a lump sum you can do so, but the bank will levy a foreclosure charge on you. This could vary from 0 to 5 percent of the principal amount in addition to taxes.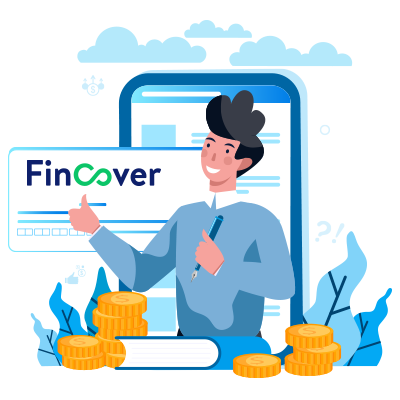 How to Apply for a Personal Loan?
To apply for a personal loan online at Fincover, follow these steps,
Login to Fincover.com

Hover on "Loans" and Click on "Personal Loans"

Enter your personal details such as mobile number, annual income, employed or self-employed, current city and also the required loan amount

Click on "Proceed" and you will see a list of personal loan offers from various banks and NBFCs. Select the one that suits your needs and fill out additional details as required.

Get an approval from the lender. It is a conditional approval which means the loan approval is subject to verification. A representative from the lending institution will contact you for further processing.
You can learn more from our asked questions
I've secured a loan of Rs. 5 Lakhs at 11% interest rates from ICICI bank. The whole process took me less time, thanks to fincover for helping me get the loan quickly.
I had a urgent house repair requirement, I didnt want to take it out from savings. I contacted Fincover.com, which helped me to compare loan quotes from multiple lenders. Thus I was able to shorlist Axis Bank from whom i got a personal loan.
I am a self-employed individual running my own business. I had to take care of an emergency expense, being self-employed, I had a great difficulty to obtain loan elsewhere. However, Fincover.com, helped me get loan from Finnable on favourable terms.
I got a personal loan offer from my bank. However, the rate of interest was high. I approached Fincover.com who helped me get the loan from InCred, at a lower interest rate of 11%. Thanks to their agents who helped me get the loan.
Thanks to Fincover for helping me get a personal loan from ICICI bank. I pay an EMI of Rs. 5000 for a loan of Rs 100000. The whole process was super fast with completely paperless documentation.
Case Study 1
Name: Rakesh Kumar
Occupation: Software Engineer
Location: Bangalore, India
Financial Need:
Rakesh Kumar, a talented software engineer, aimed to pursue higher studies abroad to enhance his skillset. The program required a substantial investment of INR 15 lakhs for tuition fees and living expenses. Having planned diligently, Rakesh was short of this amount.
Solution – Fincover Personal Loan:
Rakesh approached Fincover for financial assistance. After a detailed assessment of his creditworthiness, income stability, and repayment capability, he was offered a tailored personal loan solution.
Loan Details:
Loan Amount: INR 15 lakhs
Interest Rate: 11% per annum
Loan Tenure: 5 years
Results:
With the support of Fincover's personal loan:
Rakesh successfully funded his education abroad.
He completed the program and returned with advanced skills.
Leveraging his newfound expertise, Rakesh secured a high-paying job in a multinational company.
He managed his loan repayments seamlessly, building a strong credit history in the process.
Testimonial from Rakesh Kumar:
"Fincover was the financial backbone I needed to realize my aspirations. Their personalized loan helped me accomplish my dream of studying abroad. I'm grateful for their support, which ultimately paved the way for my career growth."
Case Study 2